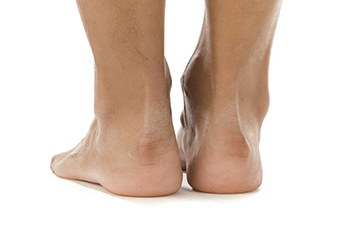 There is a rare foot condition that is known as Ledderhose disease, which causes hard lumps to develop on the bottom of the feet. It is a result of a build up of connective tissue, and can cause pain and discomfort. The lumps are generally benign, and can be related to other connective tissue diseases. Additional symptoms include foot and ankle pain, tight skin, and a sensation of pins and needles. There may be existing conditions that lead to Ledderhose disease, including chronic liver disease, prior foot injuries, and diabetes. Patients with a long history of alcohol use may experience symptoms of this condition. Mild relief may be found when soft shoe inserts are worn to provide adequate padding for the bumps. It can be beneficial to perform mild stretches, and many patients find it can help to get regular foot massages. If you have any of these symptoms, it is suggested that you consult with a podiatrist for a proper diagnosis and treatment options that may involve surgery for permanent relief.
Some foot conditions may require additional professional care. If you have any concerns, contact one of our podiatrists of Romeo Foot & Ankle Clinic. Our doctors can provide the care you need to keep you pain-free and on your feet.
Rare Foot Conditions
The majority of foot conditions are common and can be treated by a podiatrist.  Standard diagnostic procedures are generally used to identify specific conditions and treatment can be rendered. A podiatrist also treats rare foot conditions which can be difficult to diagnose and may need extra attention and care. 
There are many rare foot conditions that can affect children. Some of these can include:
Freiberg's disease
Kohler's disease
Maffucci syndrome
Freiberg's disease - This can be seen as a deterioration and flattening of a metatarsal bone that exists in the ball of the foot. It typically affects pre-teen and teenage girls, but can affect anyone at any age. Symptoms that can accompany this can be swelling, stiffness, and the patient may limp. 
Kohler's disease - This often targets the bone in the arch of the foot and affects younger boys. It can lead to an interruption of the blood supply which ultimately can lead to bone deterioration. The patient may limp or experience tenderness, swelling, and redness.
Maffucci syndrome - This affects the long bones in a child's foot leading to the development of abnormal bone lesions. They are benign growths and typically develop in early childhood and the bones may be susceptible to breaking. 
A podiatrist can properly diagnose and treat all types of rare foot conditions. If your child is affected by any of these symptoms or conditions, please don't hesitate to call our office so the correct treatment method can begin.
If you have any questions please feel free to contact our offices located in Washington and Shelby Townships, MI . We offer the newest diagnostic tools and technology to treat your foot and ankle needs.
 
Read more about Rare Foot Conditions